As a part-time Melbournian I personally believe Melbourne is one of the best cities in the country, after Adelaide. It may not have the iconic, made-for postcard images of its long standing rival Sydney, but Melbourne is more like a city of a thousand lesser-known snapshots. Granted, it doesn't have the Harbour Bridge, Opera House or Bondi Beach but Melbourne the charms of the city is subtle and definitely well worth searching out. Think of Melbourne as the girl next door that you will be proud to bring home
, rather than that supermodel you met at a club.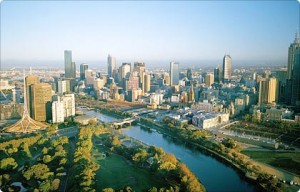 Melbourne's labyrinth-like laneways of the CBD, high-end boutiques and street cafes, the better beaches of Brighton and St Kilda, leafy footpaths that accompanies the Yarra River and the beautiful famed clocks at Flinders Street Station over looking Australia's first limestone Anglican Church.
While Sydney relies on the staggering beauty of its harbour and coastline, making it hugely complacent, Melbourne has been much more industrious throughout the years. Any Melbournian watching the Olympics in 2000 have worked with greater efforts to match that which has continued on an upward trajectory culminating with Melbourne being declared the world's most liable city.
Melbourne is well-established as Australia's cultural and sporting capital, home to some of the country's finest theatres, galleries and stadiums. Some would even argue, Melbourne is Australia's culinary capital. As someone who enjoys a meal of three, this bodes very well with me!
This stems from Melbourne's polyglot population. There is a substantial population of Chinese and Vietnamese descendants giving rise to the many eateries here. That along with the string of top-end Greek, Italian and Eastern European restaurants. The city caters to every taste, from the fine dining of its most celebrated restaurant Vue Du Monde, to fashionable hangouts like Cumulus Inc, to much-loved institutions like Caffé e Cucina. Partly because of the city's strong Italian influence, Melbourne baristas claim to brew the finest coffee in the land, and there is no end to the city's cafes and coffee bars. Local favourites include Journal Canteen, Brother Baba Budan, Seven Seeds and 65 Degrees.
Food might satisfy our physical needs but culture feeds our hungry souls. Melbourne has the most lively theatre district in Australia. The National Gallery of Art, Vicotira regularly hosts visiting blockbuster shows and the Ian Potter Centre is the first major gallery devoted solely to Australian Art.
The MCG (Melbourne Cricket Ground) – or the G, as it is colloquially known – is in my humble opinion the most impressive multisport ground in the WORLD! Not forgetting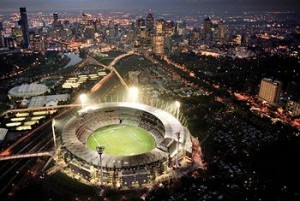 AAMI Park, the new for soccer and rugby, is the most recent addition to the sporting skyline. However, they will probably not make a postcard all on its own, it is another snapshot to add to Melbourne's charming collage.
So, Sydney can keep its  Harbour Bridge, Opera House or Bondi Beach, I wouldn't trade them for all the coffee in the world.
Are you ready to call Melbourne your home? Find out how by getting in touch with us at enquiries@australmigrate.com or complete our assessment form.