Thinking of Migrating To Australia From Singapore? Our Singapore Office is Open For Business!
Thinking of migrating to Australia from Singapore? Australia is a very popular destination for Singaporeans, with an average of 300,000 Singaporeans arriving in Australia in any given year to study, work and for some, to live.
With a substantial client base in Singapore, we launched our Singapore office a few years ago to cover all aspects of skilled migration, business visas, investor visas, partner and resident return visas as well as the popular global talent visa.
With Australia just being a short plane ride away, Singaporean citizens and residents usually have some sort of tie in Australia – relatives, studying there for university and more…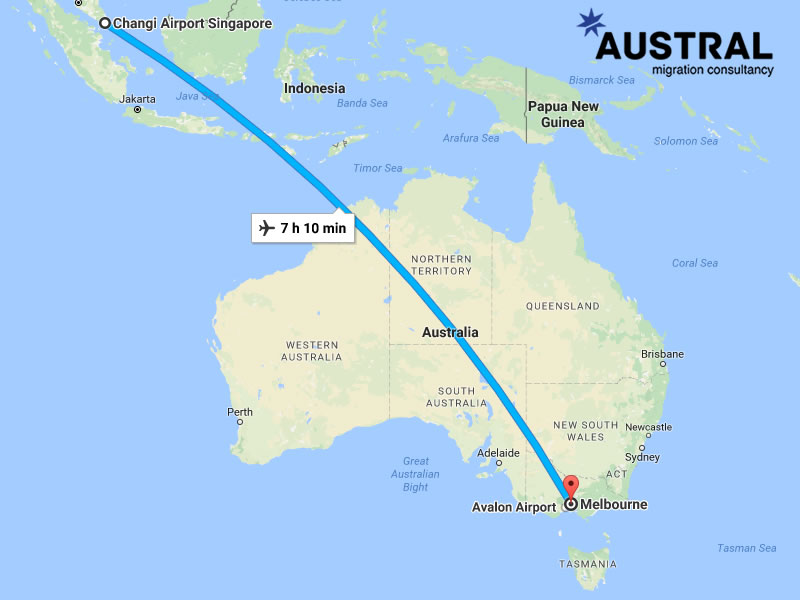 What Do I Need To Know To Emigrate To Australia From Singapore?
Whether you have been considering to migrate to Australia from Singapore for a while, or if you have just started thinking about it, you need to consider a few things.
What visa pathways do I have access to
What time horizon am I looking at
Every person needs to consider this slightly differently for their family.
Visa Pathways From Singapore
If you are applying 'offshore' (that means outside of Australia), your pathway options are usually the same from anywhere in the world.
We have summarised the main visas we process from our office in Singapore below:
Skilled Migration
The most common option would be applying using your occupation via the skilled visa pathway.
This is a points-based system where you send your details for assessment before going into a pool of applicants for consideration by the various state or federal governments.
Click here to enquire about this visa
Business Visa
A common misconception is that you can start or purchase a business in Australia to 'sponsor' yourself a visa.
In reality, you need to be a business owner first before you can apply for a business visa.
This visa lets you and your family stay in Australia while you run the business there.
Click here to enquire about this visa
Investor Visa
If you have the capital, investing in Australia is a common pathway.
Typically the investment go into government bonds or funds for a period of time as a condition of your visa.
This visa allows you and your family to live in Australia as investors.
Click here to enquire about this visa
Family Visas
If you or your spouse/ de facto partner is an Australian citizen or permanent resident, then the most common family visa we apply for from Singapore would be a partner visa.
A specialty of ours is processing this type of visa, which allows the non-resident/ citizen partner and their children to apply for permanent residency while outside of Australia.
Once the visa is approved, your family unit can live anywhere in Australia.
Click here to enquire about this visa
Resident Return Visa (RRV)
This visa is for former Australian citizens or permanent residents whose residency has lapsed.
To be able to go back to Australia as a permanent resident, we apply for an RRV to get their visa status reinstated.
Another specialty of ours, we have great success in both RRVs and other family visas from Singapore as we have processed hundreds of applications of this type.
Why Austral Migration Consultancy?
Single-country expertise (Australian migration law and regulations)

In-house migration agent you can speak to directly (we don't 'rent' our licenses from other countries)

Competitive pricing amongst top tier migration agencies

Advanced visa processing system using custom digital tools

Pay as you go payment plan
Do I Qualify To Migrate To Australia?
FILL IN YOUR DETAILS BELOW FOR A FREE ASSESSMENT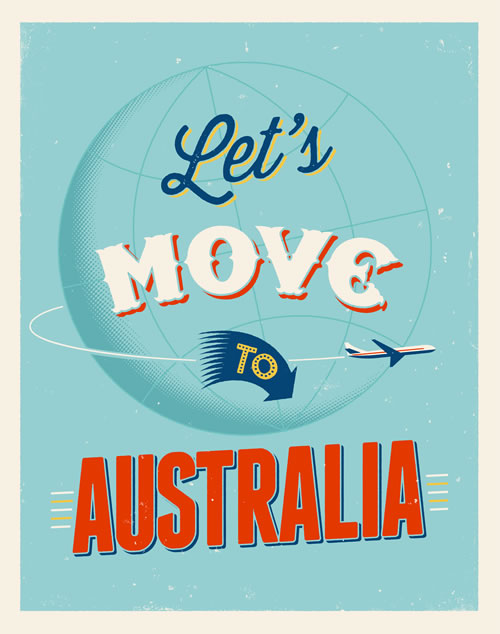 Does My Occupation Qualify Me For Skilled Migration?
It depends on your occupation – Australia has over 400 occupations on their skilled occupation lists.
This includes Engineers, ICT Professionals, Marketing Specialists, Technicians, Finance Professionals, Cooks, Chefs and more!
If you would like us to assess your occupation to see if you qualify, please use the button below.
Finding the right occupation can be very difficult if you don't know what to look out for.


What Does Being An Australian Permanent Resident  (PR) Allow You To Do?
All permanent residents to Australia are allowed to:
Enrol in Medicare for subsidzed or free medical treatments and certain subsidized medication
Send their children to public education at a subsidized or free rate
Buy second hand property, i.e. a subsale home
Qualify for certain social security benefits
Apply for bank loans
Apply for a first home owner's grant
Buy businesses and commercial property
Start a business
And a lot more!
Do I Have To Apply From A 'Visa Application Centre' In Singapore?
No you don't!
All of our applications are done digitally – we submit all your details and documents online for processing. Once you have been selected for a visa, you might be required to visit certain visa centres to get your thumbprints scanned and your photo taken, but that's the only time you'll have to visit them.
You also don't need to make your application through the Australian High Commission in Singapore, it's all done online.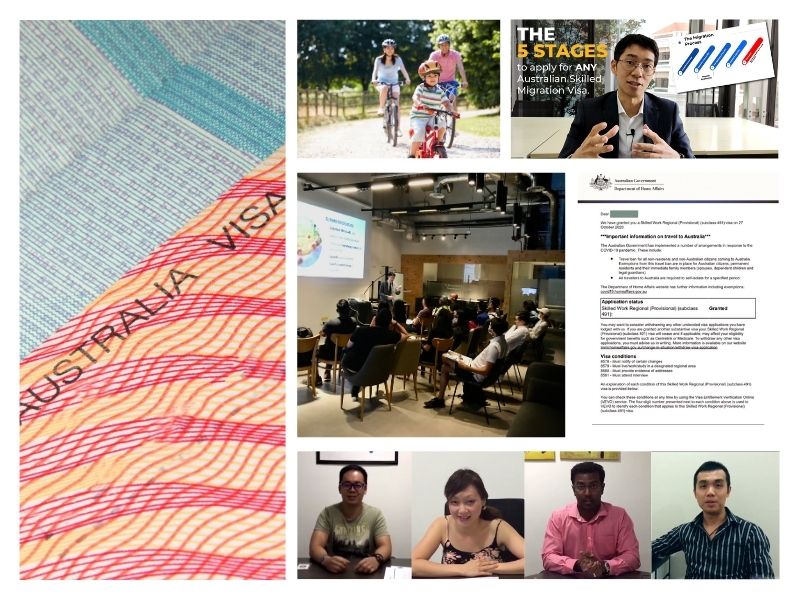 Looking For An Australian Migration Agency/Agent In Singapore?
With over 2,000 visas granted Austral Migration remains one of the Premier Australian Immigration Law Firms In Singapore – we provide a world-class professional service to our clients from around the world.
Our offices are made up of team members who are diverse in their skill sets, each selected to focus specifically around Australia's migration laws and regulations.
OUR ADVANTAGE:
2 Australian Immigration Lawyers is complemented with 3 Registered Australian Migration Agents and a supporting team of consultants and operations personal.
Combined experience of over 20 Years in migration law
Multiple stages of payment

(Pay As You Go + Payment Plans)

Online Client Portal for digital collection of documents from anywhere in the world
Support during and after your visa grant
Testimonials
We have had the privilege of working with hundreds of clients over the years and they have been kind enough to give us testimonials on how they found our services.
FEATURED CLIENT
Ian is the owner of one of South East Asia's renowned bespoked tailoring companies and he wanted to expand his business to Brisbane in Australia.
We visited Ian at his outlet in Brisbane to film this video about his decision making process and how he is enjoying his new found life.
As a client I have had a very good experience with them from the beginning.

Everything was done very professionally, everything was explained in good detail and everything went very smoothly and I am very grateful to staff at Austral, I highly recommend them
I would like to thank Austral Migration Consultancy for applying for the visa for me.

I finally got my visa and I am very happy because my family is going to move to Australia soon.
From the get go they were very frank and ensured that everything was arranged accordingly and smoothly. If not for Austral's expert handling with my company and very often giving me assurance and calmness, I would have been stressed out.
Right from the start they were very professional! They were very fast and prompt, making sure all our documents were in order. This made getting our PR smooth and double quick time, but our PR was approved in 11 months.

Whoever wants to migrate to Australia, get in touch with Austral Migration Consultancy.
They are one of the few agencies which has a lawyer in-house.

I want to thank Austral, it has been a very good journey for my family. It is a very promising start for my family to move to Australia.
"There are none better!"
"Unbelievable service and at a very reasonable cost! Forget about the other agents – Just go for Austral Migration Consultancy." – Mr. K
Sights and Sounds of Australia (Videos)
Resources
Singapore, officially the Republic of Singapore (Malay: Republik Singapura; Chinese: 新加坡共和国; Tamil: சிங்கப்பூர் குடியரசு), is an island city-state in Southeast Asia. It lies one degree (137 kilometres or 85 miles) north of the equator, at the southern tip of the Malay Peninsula, with Indonesia's Riau Islands to the south and Peninsular Malaysia to the north. Singapore's territory consists of one main island along with 62 other islets.
Singapore consists of 63 islands, including the main island, Pulau Ujong. There are two-man-made connections to Johor, Malaysia: the Woodlands 1st Link in the north and the Tuas 2nd Link in the west. Jurong Island, Pulau Tekong, Pulau Ubin and Sentosa are the largest of Singapore's smaller islands. The highest natural point is Bukit Timah Hill at 163.63 m (537 ft).
As of mid-2018, the estimated population of Singapore was 5,638,700 people, 3,471,900 (61.6%) of whom were citizens, while the remaining 2,166,800 (38.4%) were permanent residents (522,300) or foreign students/foreign workers/dependants (1,644,500). According to the country's most recent census in 2010, nearly 23% of Singaporean residents (i.e. citizens and permanent residents) were foreign born (which means about 10% of Singapore citizens were foreign-born naturalised citizens); if non-residents were counted, nearly 43% of the total population were foreign born.
Source: Wikipedia