The Class EA, Business Skills – Business Talent (Permanent) subclass 132 was made popular by the fact that it had the one and only structured Australian business visa that gave the applicant permanent residency once their visa was granted.
This was done through a stream called the 'Significant Business History stream' which allowed business owners with assets and revenue above a certain threshold to apply for the visa through any of Australia's states.
For ease of reference, we refer to this as the visa subclass 132A to the general public and clients.
In a recent announcement by Alan Tudge (Acting Minister for Immigration, Citizenship, Migrant Services and Multicultural Affairs), he outlined that come July 1st 2021, this visa stream will be removed from legislation.
We'll go through what that means later on in this article.

What Is the Subclass 132A?
The Subclass 132 has multiple pathways for residency, but the most popular is under the 'Significant Business History' stream because it is structured in a simple manner for relatively successful business owners.
In the industry
, we like to refer to it as the subclass 132[A] to differentiate it from the other streams available. You will see me refer to it as the subclass 132A in the rest of this article.
To qualify, you just need:
To be under 55 (age waivers are available from state to state)
Revenue/ Sales: AUD$3,000,000/ year (or equivalent)
Personal/ Business Net Assets: AUD$1,500,000 (or equivalent) – [AUD400,000 must be net business assets]
If you don't qualify for the above visa but are a business owner, consider the subclass 188A business visa instead.
This business visa was created to attract the best and brightest business people from around the world to set up base in the various states in Australia, thereby improving the local economies and communities.
Why Is This Business Visa So Popular?
Because you get permanent residency for you and your family immediately once your visa is granted…
No other business or investor visa offers you this visa status, making it a rare gem in all the visas in this category.
From the day you receive your visa grant you become a permanent resident of Australia.
You do however need to fulfil certain conditions (which we cover below) within 2 years of your visa grant to continue being a permanent resident.
What If I'm Above 55 Years Old?
Certain states have age waivers for people who want to apply but are already 55 years old or above.
This may include higher investment thresholds, hiring more staff or a combination of both.
It varies from state to state and is subject to their approval.
Typically if you choose to invest in a regional part of a state, this gives your age waiver request more chance of success.
If I Qualify How Much Do I Need To Invest?
As I mentioned earlier, this is a state nominated visa – that means that for it to go through, you have to apply through one of Australia's states. If they nominate your application, it goes through to the federal government for processing…
But what is in it for each state? Simply put – investment.
For a state to consider your application, you have to agree to varying requirements from each state.
This visa is called a business visa in 2 parts – because you already have an existing and successful business and once you get to Australia, you commit to creating a business.
Typically the business requirements revolve around investment of capital into your business into that state, hiring employees or a combination of both.
It can also vary depending on the type of industry you will be starting, as well as the location you will be opening the business (regional parts of a state will require lower requirements than metropolitan areas).
Some examples:
Western Australia asks for AUD1 million in capital investment into your business. If you propose to do property development, they may require up to AUD2-3 million in capital investment instead.
South Australia ask for approximately AUD600k in investment in exporting of agricultural products (excluding wine), varying amounts for other industries
Victoria may need you to invest into specific industries and/ or hire a specific number of staff
They will check 2 years after your visa grant that you have fulfilled what you said you would do.
If you don't fulfil your visa conditions (meaning they check 2 years later and you didn't invest in your state as you said you would), the government has the right to cancel your visa and revoke your residency status.
How Do You Apply For A 132A Visa?
There are a few stages to any business or investor visa application and they are typically the same for all the visa types available.
In the case of the business talent visa, you have to get through 3 stages before your visa is granted.
Step 1 – Make Sure You Qualify
This goes back to the requirements earlier:
To be under 55 (age waivers are available from state to state)
Revenue/ Sales: AUD$3,000,000/ year for the last 2 years
Personal/ Business Net Assets: AUD$1,500,000 (or equivalent) – [AUD400,000 must be net business assets]
Who are you proving this to? Right now nobody, but before you take any steps forward it's good to have your numbers in order.
Let's step through some of them below.
Age – Under 55 Years Old
Legislatively this visa is only open for applicants who are below the age of 55 years old before they receive an 'Invitation To Apply' which is described later on in this article.
So you must give yourself a bit of buffer between when you start preparing for an application and your 55th birthday, as it takes time to get through the 'Apply To State' stage (anywhere from 1 – 3 months or more).
But what if you're already 55 or older?
Some states like Western Australia and South Australia are very specific in what they are looking for when it comes to applicants who are 55 years or older.
This can include a higher investment, hiring more staff, investing into regional parts of the state or a combination of each.
Some states are easier than others to get the age waiver, contact us to find out more.
Revenue/ Turnover
You will need to prove that your sales revenue is at least the equivalent of AUD3 million per year for the last 2 full financial years.
This can be achieved with a maximum of 2 companies where you own more than 30% of the shares in the company.
Note that this is pure revenue or turnover, not profits after expenses.
The department of Home Affairs will use the prevailing interest rate in each of those 2 years to calculate the AUD equivalent of whatever currency you declare.
Personal + Business Assets
You are also required to show that you have personal and business assets that accumulate up to AUD1.5 million or equivalent.
This can be done with any form of assets such as stocks, property, business assets etc.
However note that within this AUD1.5 million, at least AUD400k must be in business assets in your name – i.e. from your balance sheet in your financial statements.
Note that all the requirements above must be met or you will not meet the minimum requirements for this visa type.
If you are not sure, reach out to us and we can do a complimentary asset check for you.
If you are sure? Great – move on to the next step!
Step 2 – Apply To A State (Expression Of Interest)
Now that you know you have everything in place, you need to apply to one of Australia's states:
New South Wales
Queensland
Northern Territory
Western Australia
South Australia
Victoria
the Australian Capital Territory
Tasmania
Each state has different requirements in terms of what types of business activity they will approve in their state, the different levels of minimum investment and also if age waivers will be considered.
Administrative fees, processing time and processing systems are determined at a state level, which can be quite different depending on the state you are submitting to.
What Are The States Looking For?
Each state has their own agenda but ultimately they are looking for a combination of:
Investment into the local economy
Job creation
State recognition if your business is successful
State revenue
Growth of target business sectors
At different times of the year their goals change and in some cases (for example Victoria), they would like you to have a background in the business you are going to start in the state.
Meaning that if you are from an FnB background, they may not let you propose a property development company.
In other states it doesn't matter as much – if you can convince them your business proposal is sound, they can approve it.
Some states will require you to submit an application through their state submission systems, where you provide them your bio data, business and financial information.
In some cases you have to provide a business plan to support your proposal as well.
This part of the process is called an 'expression of interest' to a) Australia's federal government and b) the state(s) you have shortlisted.
Step 3 – Receive An Invitation To Apply
If you've submitted a good enough business proposal/ plan and fulfil all the state requirements, you have a good chance of the state selecting you out of the submission pool.
This is known as a state-level invitation, where they give you a certain time frame to provide them any documents they need, pay any government fees and to accept the conditions of the subclass 132A for that state.
It can take different amounts of time for the states to come back with an invitation, but in our experience it varies from about 4 – 12 weeks across the various states.
Once you've accepted your state invitation, you will then receive an invitation from the Department of Home Affairs directly.
This federal invitation is the penultimate step of the process.
You will have exactly 60 days to accept your invitation and pay the government fees.
Additional documents will be required, but can be sent after you've paid (once you pay, you are essentially saying 'I accept').
These include:
Various government forms
Police clearances
Medical check
Any other document request required by Home Affairs
Your documents will be processed and any clarifications required will be asked by a case officer within the government directly to you or your immigration lawyer.
Once all the documents are verified, your visa will be granted. Each member of your family in the application will all receive the same visa status, with their own visa grant letter.
It should look something like this: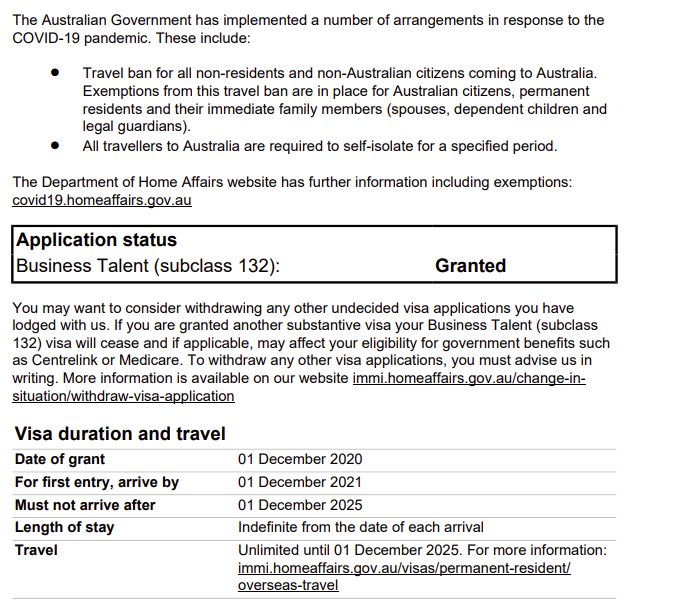 How Long Do I Have To Get To Australia?
From the date of your visa grant, most people will be given 12 months to make their 'initial entry' – this is your first step into Australia.
You do not need to enter into the state that selected you, but your family will need to enter within the 12 month period (although not all at the same time) as well.
You can leave right after if you wish – this does not need to be your permanent move.
How Much Time Do I Have To Fulfil The State Requirements?
You have 24 months to fulfil all the requirements you committed to.
This includes:
Setting up of the business
Investment of the stated amount agreed
Hiring the amount of staff you require
Moving to the state in question
Any additional requirements like buying a home
Note that this is just a general list, some state requirements are much more specific – such as investing in a certain area, investing in a certain business type and so on.
Must I Live In The State That Selected Me?
Yes we strongly recommend that you do – as this is on the conditions of your state nomination.
Although a bit hard for them to prove otherwise, you would need to demonstrate day to day management of the business from the state.
How Much Does This Visa Cost?
The current fees for this visa are:
Main applicant: AUD 7,855
Family members 18 and above: AUD 3,930
Family members below 18: AUD 1,960
Any other fees including professional fees to your immigration firm, corporate secretary, valuations, accountant and others may be required during your application period.
You MUST Apply Before:
July 1st 2021
Important Update For July 2021
We mentioned it right at the start of the article – but this visa stream is going to be removed from the visa subclassess on 1st July 2021.
That means that from now until July 1st 2021, is your last chance to apply.
The cut-off date legislatively speaking would be to receive an invitation to apply (step 3 above), before this date.
Whatever happens after July 1st 2021 will not affect your application as long as you have received and accepted a federal invitation by then.
If you'd like to talk a migration professional about applying for this visa, please contact us below for a free 1-on-1 consultation.
Do I Qualify To Migrate To Australia?
FILL IN YOUR DETAILS BELOW FOR A FREE ASSESSMENT
Webinar On Subclass 132A Change
We did a live webinar on all the business migration program changes, including for the subclass 132A below.