Skilled Independent (Permanent) (Class SI) (Subclass 189)  a.k.a Subclass 189
The Subclass 189 Skilled Independent is a permanent residency for skilled workers who are not sponsored by an employer, a state or territory, or a family member.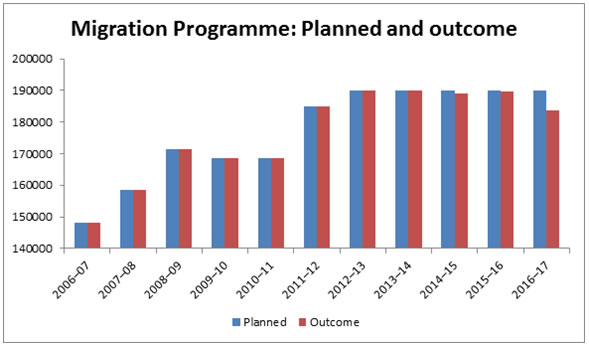 About The Skilled Migration Program
The general skilled migration (GSM) program accounts for most of Australia's permanent visas issued each year and is the main pathway for people looking to migrate to Australia.
With an intake size of 190,000 people each year, the basis of this program is to allow individuals with genuine skills in certain occupations to apply for residency directly without needing to be sponsored by an employer.
Source: Parliament of Australia
Although the skilled migration program has been around for decades, the subclass 189 has only been around for less than 10 years, replacing a previous skilled independent visa subclass.
The Process In Brief
The process for applying for a subclass 189 visa can be seen here.
We'll run through the whole process later on in this guide.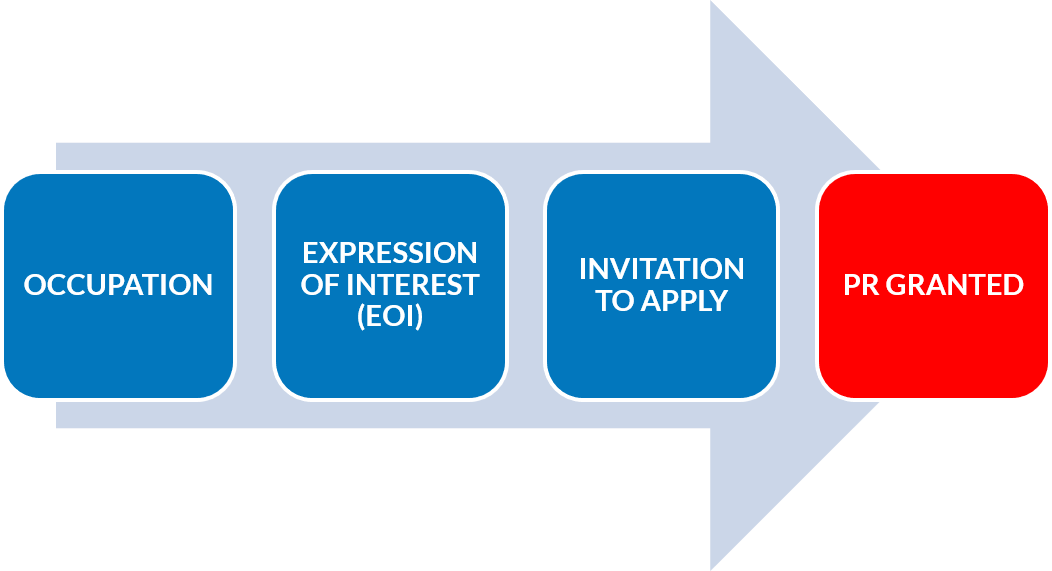 What Are The Primary Criteria For The Subclass 189?
Below we have listed the main or 'primary' criteria for the grant of this visa. We have paraphrased and simplified the legal clauses to make them easier to understand.
A positive skill assessment for an occupation that is on the Medium and Long Term Strategic Skills List (MLTSSL) – Migration Regulations 1994 (CTH) Sch 1 Item 1137 4B & 4C
Meet or surpass the minimum English language requirement – Migration Regulations 1994 (CTH) Sch 2 reg 189.223
Receive an invitation to apply from the Department – Migration Regulations 1994 (CTH) Sch 2 reg 189.221
Be less than 45 years of age when the invitation is issued – Migration Regulations 1994 (CTH) Sch 1 Item 1137 4B (3)
Which means that you have at least 65 points in your skilled points test – Migration Regulations 1994 (CTH) Sch 2 reg 189.224 (1)
We'll go through each of the sections below.
What Is The Medium and Long Term Strategic Skills List (MLTSSL)?
Besides being quite a mouthful to say, this is the newest version of Australia's skilled occupation list.
For the subclass 189, your occupation must be on this list and this list alone or you would not be allowed to make a valid application for this visa type.
Just over 170 occupations exist on the list, which you can read through on our MLTSSL list here.
Understanding the occupations on the list
How do I determine if my qualifications and experience matches the occupations stated in the MLTSSL?
Usually, most of the occupations will be pretty self-explanatory just from their title, however you might sometimes encounter certain occupations that are a bit harder to classify.
In this instance you will need to search for that particular ANZSCO and look at the tasks listed.
Too complicated? Let's refer to an example:
Civil Engineer is on the MLTSSL. A quick search and you will find Civil Engineer (233211) code, click on the link and you will notice that the Australian Bureau of Statistics (ABS) list the tasks a qualified Civil Engineer is expected to complete.
You will need to complete a similar group of tasks as compared to what is written there – 60% or more is usually enough.
The English Language Requirement
You need to have 'competent' English language ability which is satisfied if you have:
An IELTS test score of at least 6 in each of the four test components of speaking, reading, writing and listening; or
An OET test score of at least B in each of the four test components of speaking, reading, writing and listening; or
A TOEFL iBT test score with at least the following scores in the four test components: 18 for speaking, 13 for reading, 21 for writing and 12 for listening; or
A PTE Academic test score of at least 50 in each of the four test components of speaking, reading, writing and listening; or
If you hold a passport from the United Kingdom, the United States, Canada, Ireland of New Zealand
Please note that this is the minimum English language requirement that all primary visa applicants need to satisfy.
If you are counting points on the basis of your English language ability, then you still need to satisfy the relevant requirement in order to gain those points.
Invitation To Apply
We'll talk about this later in the guide, but in essence your visa is not officially being processed by the Department of Home Affairs (DHA) until you have received an invitation from them to apply for the visa programme.
Under 45 Years Old
The skilled migration program is only for main applicants under the age of 45 before at the time when they receive the 'invitation to apply' mentioned above.
That means your age is not locked in when you start the process, but only when you have a valid application with the Department of Home Affairs.
Either member of a couple (married or defacto) can be the main applicant, so in the case of one being above 45, you can apply using their partner or spouse instead – as long as they fulfil the criteria mentioned on this page.
It doesn't matter how old the secondary applicants are, only the main applicant needs to be under 45 years old to qualify.
The 65 Points Requirement
As of July 1st 2018, the minimum points threshold for make a valid application was adjust to 65 points (previously it was 60 points).
The rationale behind the change was that it better aligned with the points score that most people could realistically get selected at because they felt that applicants were rarely getting selected at 60 points in recent years.
Your points are made up from various factors such as your age, English language ability and others, which you can see in the table below.
Relevant factor (at the time of invitation)
Category
Points
Age
18–24 (inclusive)
25–32 (inclusive)
33–39 (inclusive)
40–44 (inclusive)
25
30
25
15
English language ability
Competent English — IELTS 6 / PTE 50
Proficient English — IELTS 7 / PTE 65
Superior English — IELTS 8 / PTE 79
0
10
20
Skilled employment (outside Australia)
At least three but less than five years
At least five but less than eight years
At least eight and up to 10 years
5
10
15
Skilled employment (in Australia)
At least one but less than three years
At least three but less than five years
At least five but less than eight years
At least eight and up to 10 years
5
10
15
20
Educational qualifications


Doctorate/ PHD
Bachelor/ Masters degree
Diploma
20
15
10
Australian study requirement
One or more degrees, diplomas or trade qualifications awarded by an Australian educational institution and meet the Australian Study Requirement
5
Other factors
Credentialled community language qualifications
Study in regional Australia or a low population growth metropolitan area (excluding distance education)
Partner skill qualifications
Professional Year in Australia for at least 12 months in the four years before the day you were invited
Australian Masters in STEM (2 years study)
Partner's English
Single applicant


5
5
10
5
10
5
10
Please see some explanatory notes below on some of the key items in the table above.
Continued below…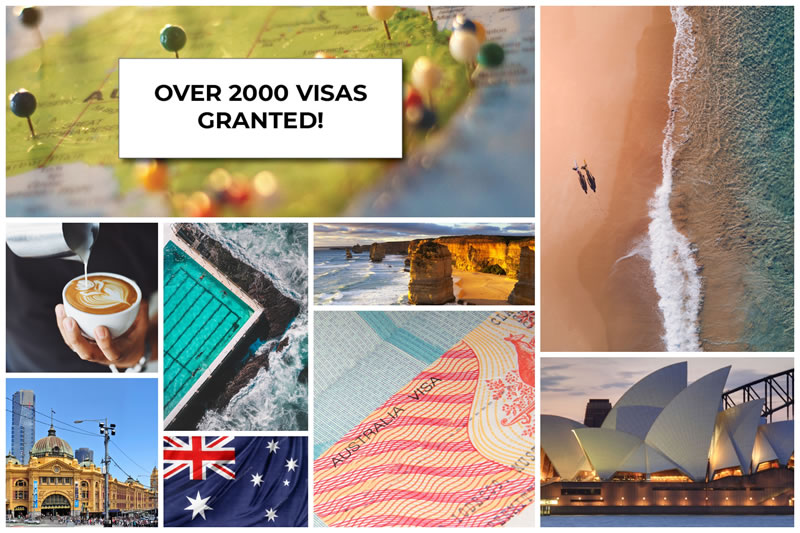 Get Your Questions Answered By A Migration Expert.
With over 2000 visas granted, Austral Migration Consultancy remains one of the premier migration agencies – we provide a world-class professional service to our clients from around the world.
2 Australian Immigration Lawyer is complemented with 4 Registered Migration Agents and a supporting team of consultants and operations personal.
Combined experience of over 20 Years in migration law
Multiple stages of payment

(Pay As You Go + Payment Plans)
Work experience
You must have worked at least 20 hours of paid work per week and in your nominated skilled occupation, or a closely related occupation.
The work must be paid – it cannot be voluntary work.
You can only count 'skilled' employment, that is it the work was undertaken after the applicant meets at least the entry level requirements as set by the relevant assessing authority for that occupation.
The date on which an applicant becomes 'skilled' may be different from the date that an assessing authority finds that the person meets their requirement for a suitable skills assessment. For example, an assessing authority may issue a suitable skill assessment on the basis of attainment of a tertiary qualification but may require a period of post qualification work experience before considering an applicant 'skilled' for the purpose of employment points.
Educational qualifications
If you hold multiple recognised qualifications, you can only count points for one of your recognised qualifications (e.g. if you have completed a Bachelor degree and a Diploma degree, you can receive points for the Bachelor degree only).
Your relevant skills assessment body will generally determine whether any qualifications earned outside Australia are of a standard that is comparable to the relevant Australian qualification.
You may be able to receive points for a qualification that is not related to your nominated occupation.
Australian study requirements
This means you have been awarded one or more degrees, diplomas or trade qualifications through a course or courses taken at an Australian educational institution.
Your course or courses must:
be registered through the Commonwealth Register of Institutions and Course for Overseas Students (CRICOS)
have been successfully completed
have resulted in you receiving a degree, diploma or trade qualification
have been completed in a total of at least 16 calendar months
have been completed as a result of at least two academic years of study
have had all instruction in English
have been completed while you were physically in Australia
have been completed while you held a visa authorising you to study in Australia
be counted only once towards the Australian study requirement. Any failed course subject cannot be counted towards the Australian Study Requirement
Two academic years of study is defined as 92 weeks of study in a course or courses registered by CRICOS. CRICOS determines a standard duration (number of weeks) for each course.
You will need to fulfil all the basic requirements above to be able to start the full application process.
The Subclass 189 Application Process – In Stages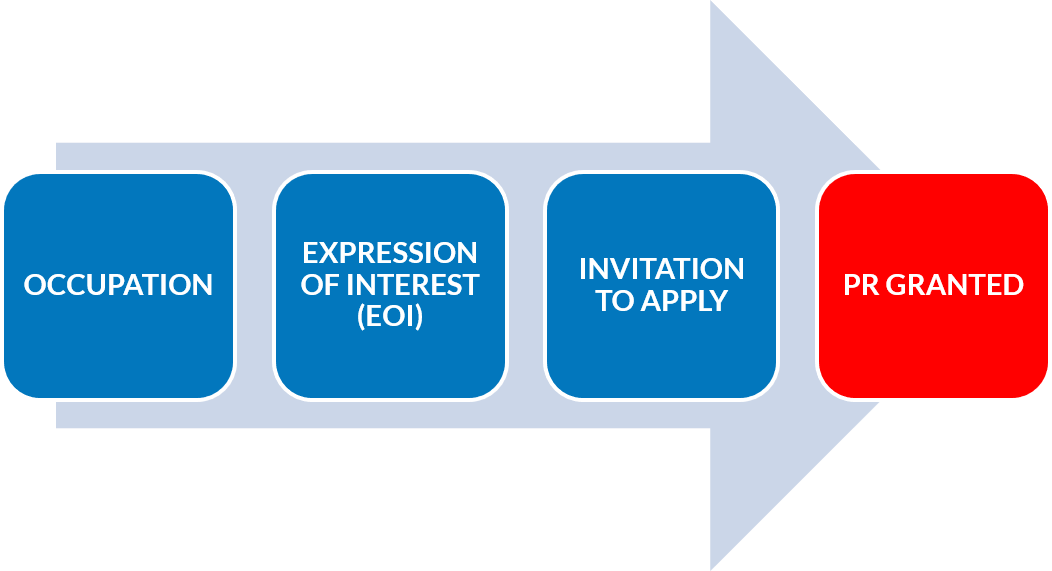 We showed you this diagram earlier, but let's go through it in more detail so you can get a better understanding of it.
The 4 stages for the subclass 189 application are:
Occupation assessment
Expression of Interest (EOI) submission
Receiving an Invitation to Apply (ITA)
Your visa being granted
You must go through each stage before move on to the next one.
For this visa type there is no state involvement – you are applying directly to the federal government and will be selected directly as well.
Let's break down each of the 4 stages…
Occupation Assessment
To validate your occupation you need it officially assessed by an authorised body in Australia.
You can't just self-declare your occupation – you must provide documentary evidence.
Every occupation has a different assessing authority, the whole list of the authorities can be seen below.
Architects Accreditation Council of Australia Inc
Australian Association of Social Workers
Australasian College of Physical Scientists and Engineers in Medicine
Australian Computer Society
Australian Community Workers Association
Australian Dental Council
Australian Institute of Management
Australian Institute of Medical Scientists
Australian Institute of Quantity Surveyors
Australian Institute for Teaching and School Leadership
Australian Maritime Safety Authority
Australian Nursing & Midwifery Accreditation Council Limited
Australian and New Zealand Podiatry Accreditation Council Inc.
Australian and New Zealand Society of Nuclear Medicine
Australasian Osteopathic Accreditation Council
Australian Orthotic Prosthetic Association
Australian Physiotherapy Council
Australian Pharmacy Council
Australian Podiatry Association
Australian Psychological Society
Australian Society of Medical Imaging and Radiation Therapy
Australasian Veterinary Boards Council Inc.
Chartered Accountants Australia and New Zealand
Civil Aviation Safety Authority
Council on Chiropractic Education Australasia Limited
CPA Australia Ltd
Dietitians Association of Australia
Institution of Engineers Australia
Institute of Public Accountants
Medical Board of Australia
National Accreditation Authority for Translators and Interpreters
Optometry Council of Australia and New Zealand
Occupational Therapy Council (Australia and New Zealand) Limited
Speech Pathology Australia
Surveying and Spatial Sciences Institute
Trades Recognition Australia
Each assessing authority also requires different documents to validate your occupation, including (not all would be required):
Academic qualifications
Proof of work experience
English tests
Reports
Test/ exams
Invoices and tax statements
It really depends which occupation and assessing authority you are applying to.
Take note that every assessing authority will charge you a fee and take anywhere from 3 months or more to decide on your outcome.
Once they do, you either get a positive or negative outcome letter – only positive outcomes can continue forward from this stage of the process.
Expression of Interest (EOI)
At this stage you will be submitting an expression of interest to the Department of Home Affairs that you would like to apply for skilled migration under the subclass 189 visa type.
You would need to have a positive outcome on your assessment as mentioned earlier as well as all the documents already prepared to prove that you have at least 65 points from the skilled points table we went through earlier.
Although you don't have to upload any documents at this point, they must exist before you submit your EOI or the application will be invalid at the following stage.
The pool of applicants + selection rounds
Once submitted, you go into a pool of applicants in the same occupation as yourself, waiting for selection from the Department.
Applicants are selected on a supply/ demand points-based system, meaning it takes applicants with the highest points first, then followed by first come first serve (if points are equal between two applicants).
Selections rounds are done once a month, on the 11th of each month, where the DHA will send out invitations to a selection of the pool numbering anywhere from 600 up to 4000+ depending on the time of the year and varying factors.
Selection time frame
Depending on your individual points score, the duration you remain in the pool varies from just a month (or less in some rare cases), up to 12-18 months for other applicants and occupations.
Once your application gets selected from the pool, you receive an Invitation to Apply (ITA)…
Invitation To Apply (ITA)
When you receive your official invitation from the Department of Home Affairs, your application is about 90% of the way through the process and you are being invited to accept your place in the skilled migration program.
Applicants at this stage would have to:
Pay their visa fees (main applicants + all other secondary applicants)
Submit documents validating their claims in their EOI
Police clearances for every country each applicant above 16 years old has stayed for an accumulated 12 months in the last 10 years
Medical checks for each person in the application
Any other documents required by the DHA on a case by case basis
Once all documents have been submitted, your application will go into the process queue for approval.
As long as all checks come out clear, your visa will be granted and the Department will contact you or your migration agent with your visa grant letter.
Visa Grant
Your visa grant letter looks something like this: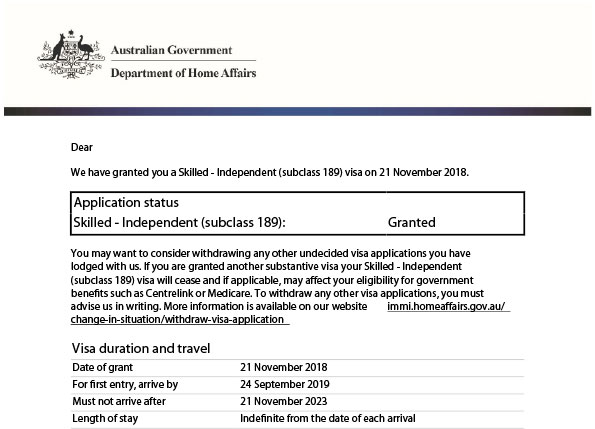 It states the details of your grant, validity period, conditions and so on…
Note that each member of your family in your application will be given their own letter and the visa type will be the same.
You will have to do an initial entry by a given date – this is essentially to activate your visa, but after that you can leave again as your initial travel authority is 5 years.
Other Notables For The Subclass 189 Visa
There are other considerations you have to keep in mind that are required for this visa to be granted:
The applicant may be in or outside Australia when the visa is granted, but not in immigration clearance
This is a permanent visa permitting the holder to travel to and enter Australia for 5 years from the date of grant (more on this later)
If you are applying from outside Australia, your first entry must be made before the date specified on your visa grant letter
Full work and stay rights anywhere in Australia
Frequently Asked Questions
Do I Qualify To Migrate To Australia?
FILL IN YOUR DETAILS BELOW FOR A FREE ASSESSMENT