As 2017 draws to a close and we welcome the new year, we've put together a highlight of the year from an Australian migration law point of view, as well as general news on Australia below.
From a company standpoint, 2017 was a year of growth, as we added 2 new offices, the first in Pavilion Retail Office Block in the heart of Kuala Lumpur and the second our regional office in Odeon Towers in the centre of Singapore.
Department of Home Affairs is Created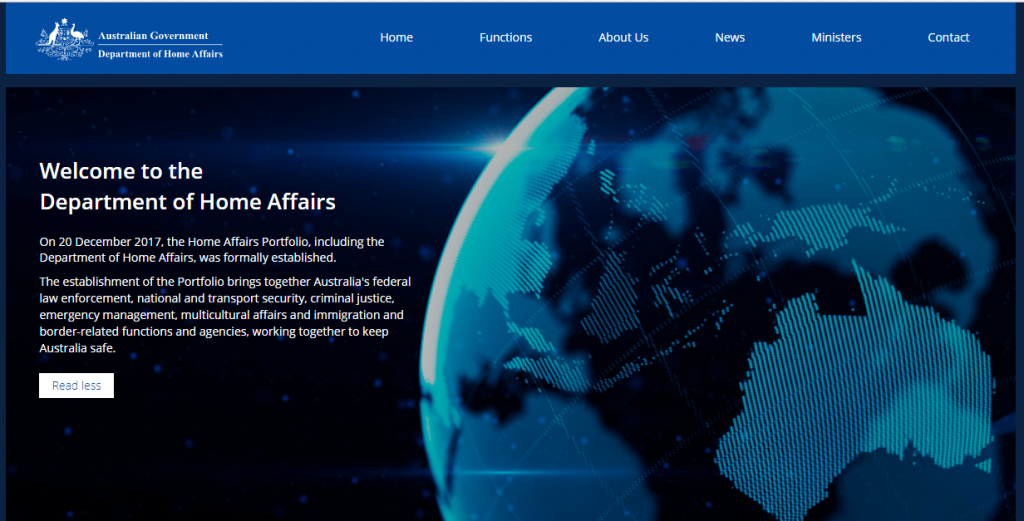 Formerly known as the Department of Immigration and Border Protection (DIBP), on 20th December 2017 the department was consolidated into the portfolio of the Department of Home Affairs as part of the government's reform of Australia's national security and intelligence arrangements.
This included redirecting the previous border.gov.au website to the new homeaffairs.gov.au website, but all the information remains the same.
Changes to the 457 Visa Subclass
Although our focus here at Austral is primarily on skilled migration, business migration and certain family visas, I thought it would be good to touch on the changes in the 457 visa subclass that happened early in the year.
Due to certain political factors, this visa type, which is the equivalent to a temporary work visa (up to 2 years) and which had been in use for 20 years, was replaced with other visa types.
The main push back was that the government felt that jobs should be given to Australian residents and citizens first, which is why we always tell people that Australia doesn't really practice using 'work visas' like other countries and that provisional or permanent residents and citizens are always preferred.
The main change that occured besides the reformation of the visa subclass was that the skilled migration lists were also changed, with certain occupations being removed while others were added. The lists themselves were renamed into the Medium and Long Term Strategic Skilled List and the Short Term Skilled Occupation List, each having a selection of occupations valid for General Skilled Migration.
Is your occupation on one of the lists? Get in contact and let us know.
Skilled Migration Capped at 45 Years Old
As of 1st July 2017, the age limit for skilled migration was reduced from 50 years old to 45 years old. That means you have to be below 45 years old to qualify for skilled migration.
However the age limit to contribute partner skills was maintained at under 50 years old.
Skilled Migration Still Going Strong
Statistics for 2017 are not available yet, but as you can see in the graph below, in 2016 migration in the skill stream sits at just over 120,000 migrants. This is consistent with numbers from the previous years, with some economists predicting that this number will increase in years to come.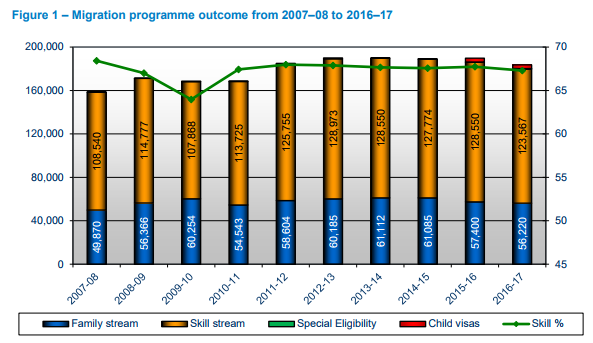 Australia's Economy Breaks A World Record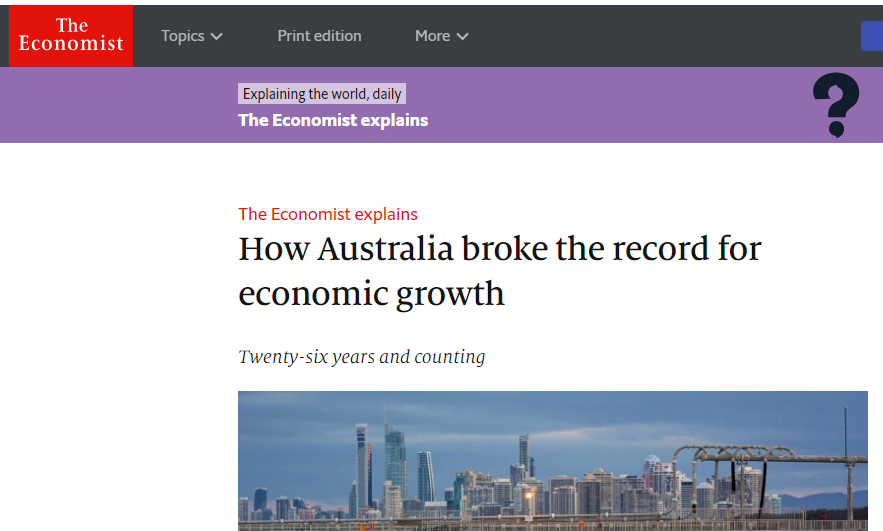 Australia now stands alone in the record books after overtaking the Netherlands as the longest running stretch of economic growth.
They have achieved 26 years of growth without going into a recession, surviving such times as the Asian financial crisis and the recent GFC.
The Australian government forecasts this trend to continue over the coming years, as they have taken measures to keep up demand for Australian goods and services in the agriculture, commodities, education and tourism sectors and with Australia being so well placed in the Asia Pacific region this looks to be the right move.
Most Liveable City In The World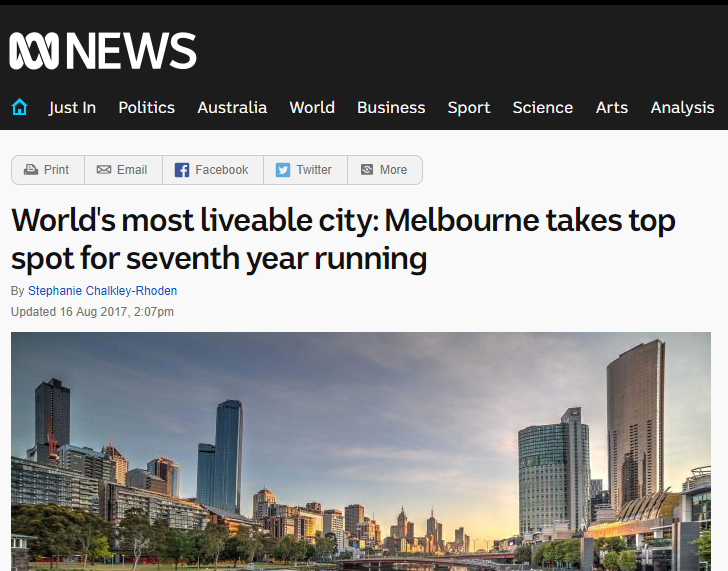 For the 7th year in a row, Melbourne has taken the top spot in the Economist's world's most liveable city ranking charts.
The Economist Intelligence Unit's (EIU) Liveability Index gave Melbourne a perfect score for healthcare, education and infrastructure – they rank 140 cities each year on those topics, as well as stability, culture and environment.
Adelaide was the next best Australian city finishing in fifth spot, followed by Perth at number seven. Sydney was ranked 11th.
What's Coming In 2018?
The migration environment remains fluid
, with changes in the skilled employment list a guarantee, but as the list is determined by supply and demand, although some occupations come off, others will come back on to it.
We expect this to happen at least once, either in January 2018 or July 2018, with a chance it will happen at both times of the year.
For Australia, nothing will fundamentally change, even though elections will be held sometime between late 2018 and early 2019, whichever party wins usually maintains the core fundamentals of the Australian way of life, which is keeping the economy strong, filling skills shortages, making sure the health and education sectors are kept in good condition and that work-life balance remains as it always has.
As the year draws to a close, here at Austral Migration Consultancy, we would like to take this time to wish you a very Merry Christmas and a happy new year to you and your family.
Do I Qualify To Migrate To Australia?
FILL IN YOUR DETAILS BELOW FOR A FREE ASSESSMENT